More Than An AI Recruitment Bot
All the benefits of a custom AI recruitment bot, combined with a live team of trained recruitment experts.
A candidate engagement solution that works. Industry-leading AI technology fully-managed by our expert recruiters.
24/7 Support
Expert agents and your AI chat bot engage candidates, 24/7
Real-Time Responses
Answer candidate FAQs accurately, powered by Machine Learning
Personalization
Personalize candidate journeys with advanced segmentation capabilities
NLP & Machine Learning
Learns from and improves candidate interactions as volume increases
Reporting & Analytics
Gain insights into candidate pipeline and engagement with robust reporting
Managed Candidate Feedback
Candidate feedback & disengagement fully managed by the Live Recruiter team
Less Time, Better Results
Achieve scale with smart automation powered by AI
Answer candidate FAQs immediately with your chatbot
Use Machine Learning and AI to build Q&A repository
Streamline the candidate application process
Engage potential candidates instantly from your corporate careers page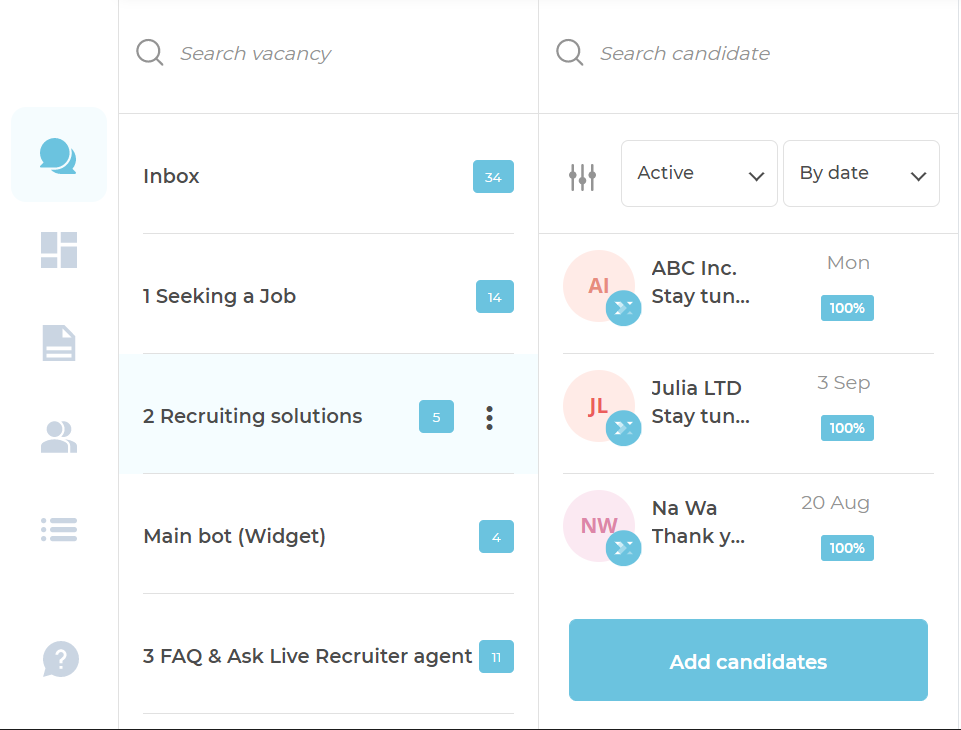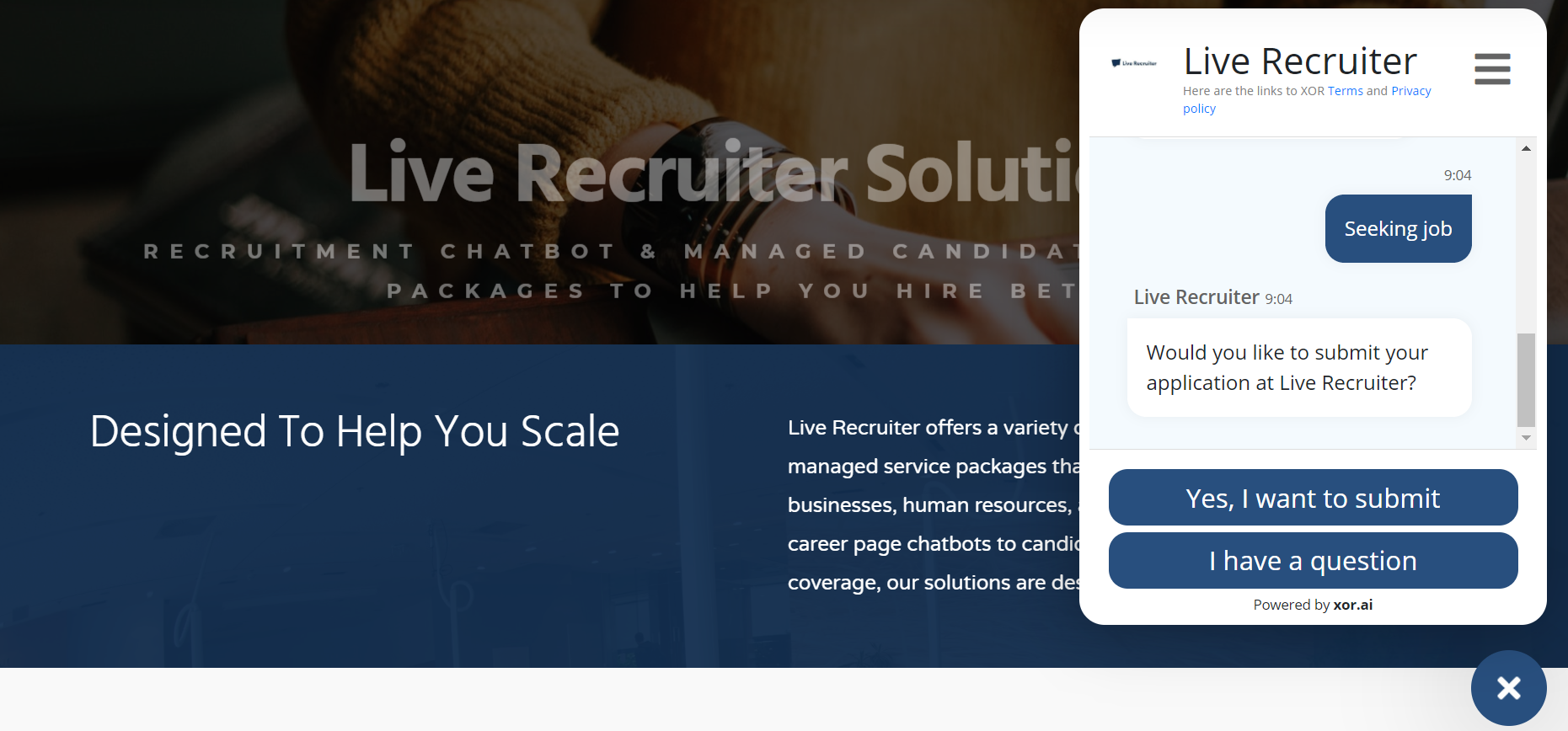 Find The Perfect Candidates
Build your candidate pipeline while reducing cost
Capture candidate lead information
Pre-screen candidates with scoring and tagging functionality
Automate resume collection
Have candidates uploaded to your ATS or funneled to your team automatically
Easy Interview Management
Save time with intuitive interview process automation
Search, tag, add notes, invite for interviews, and send follow-ups
Auto-schedule interviews with qualified candidates
Set and send interview reminders
Rescheduling options for interviewers and candidates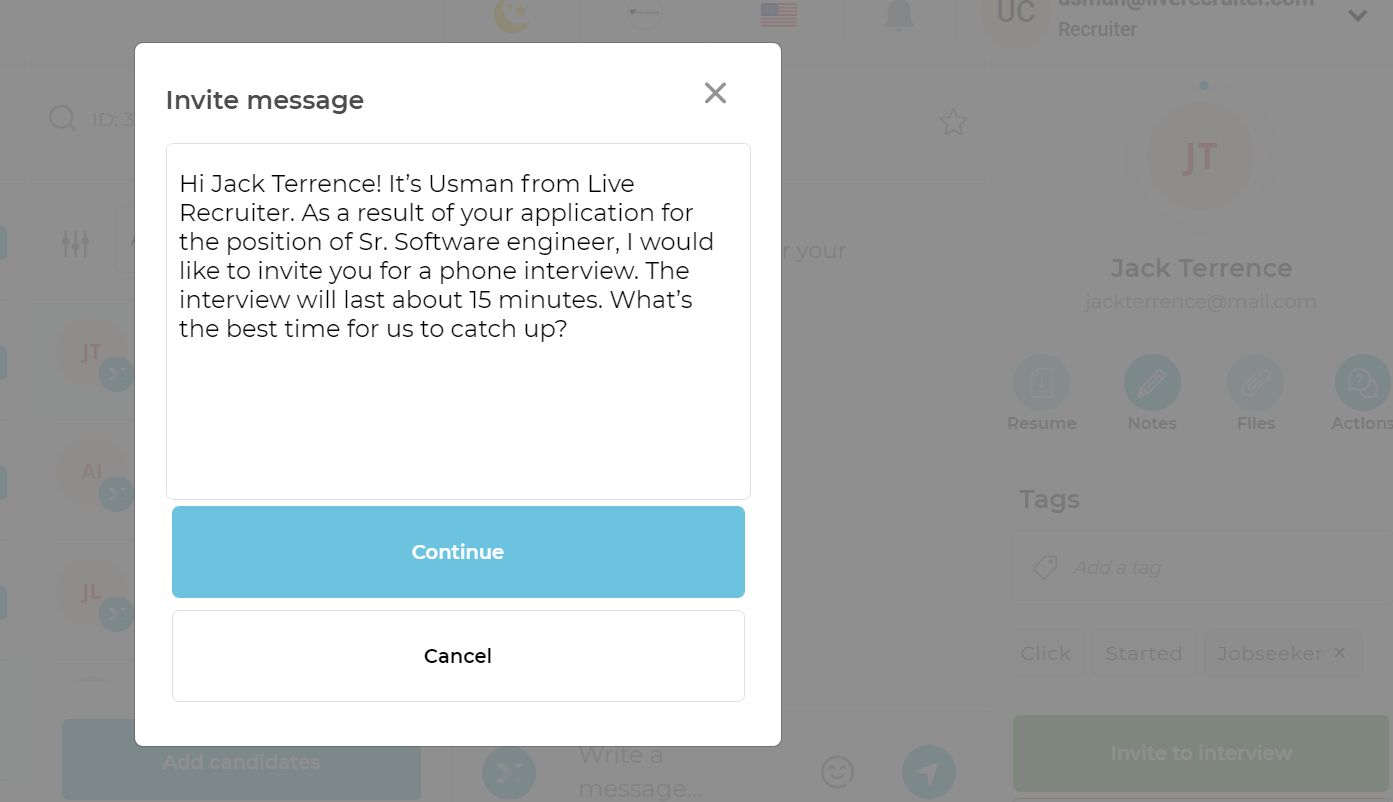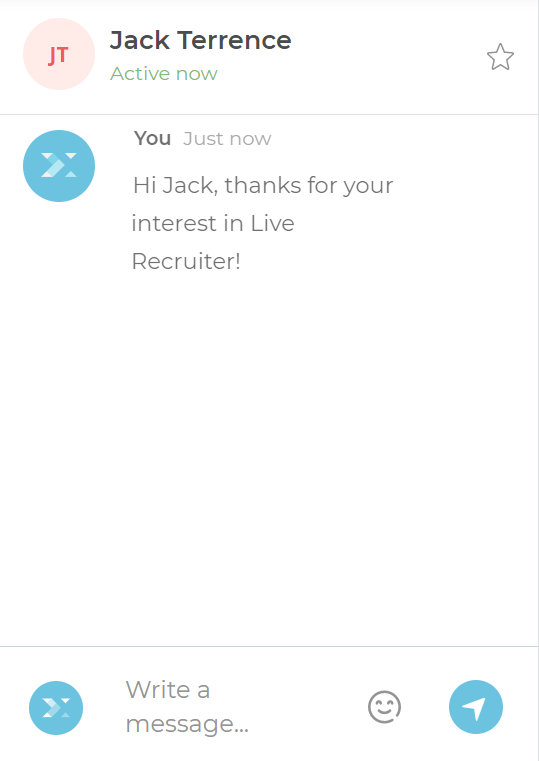 The Best Of Both Worlds
Leverage the power of AI without losing the human element
Real-time live agent takeover by by Live Recruiter talent acquisition specialists
Choose your coverage needs, from business hours to 24/7 x 365
Provide instant candidate feedback
Improve the candidate experience with human-to-human interaction, candidate follow-up, and post-interview feedback managed by the Live Recruiter team
See Live Recruiter In Action.
We'll show you how Live Recruiter can help you accelerate, automate, and improve your hiring and candidate engagement