What is an employer brand?
If one were to ask an employee for their thoughts on day to day life at their job, chances are they won't talk about the company's product or service. More likely, they will talk about the management style, company values, or company culture at their workplace. These factors shape the dynamics of working life. A company's branding is not limited to just its public reputation as a brand. Aside from its brand that is perceived by consumers and the public, a company also has a brand shaped by its reputation amongst employees and job seekers. This is the company's employer brand.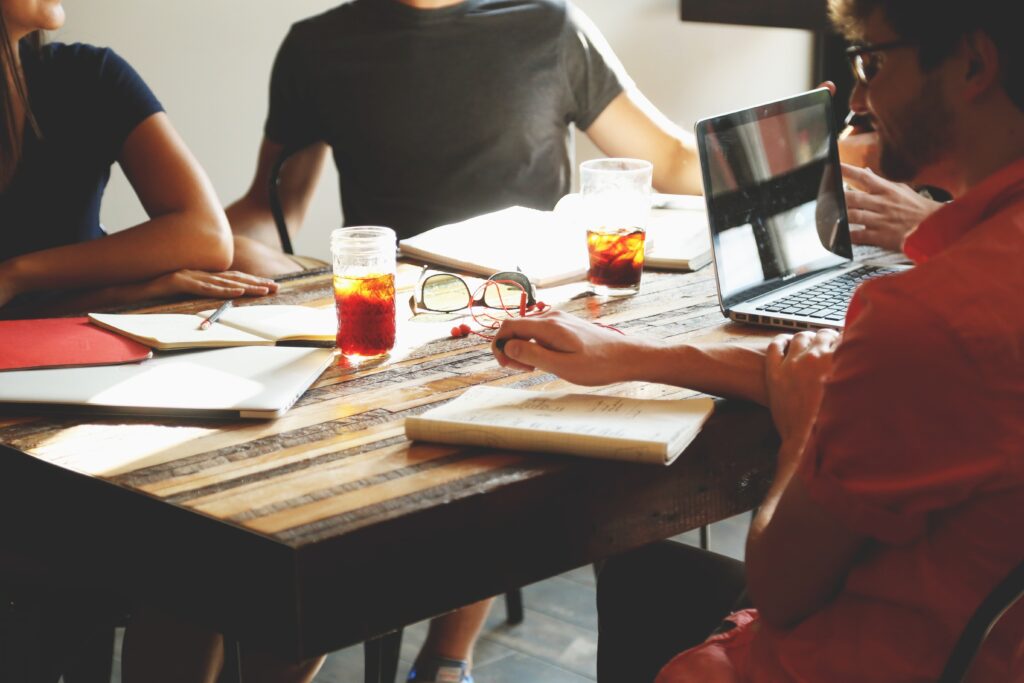 The strategic importance of an employer brand
While companies dedicate much of their resources and time towards shaping their brand, many do not put the same level of effort into cultivating their employer brand. Every company has an employer brand whether or not they actively curate it. 75% of job seekers are likely to apply to a company that actively manages its employer brand. Companies must choose to be deliberate in their employer branding in order to maximize their appeal to employees and candidates.
A strong employer brand is linked to measurable positive performance results from employees and candidates. A study of around 200 organizations by the Aberdeen Group found that 20% of the best in-class onboarding companies retained 86% of their hires after one year compared to 56% of those whose onboarding ranked in the bottom third. Additionally, 77% of the top performing employers' workers met their performance milestones on time, compared with 41% of those who worked for companies with weaker onboarding and employer branding. It is evident that a positive candidate experience translates to positive employee performance.
The fiscal impact of the employer brand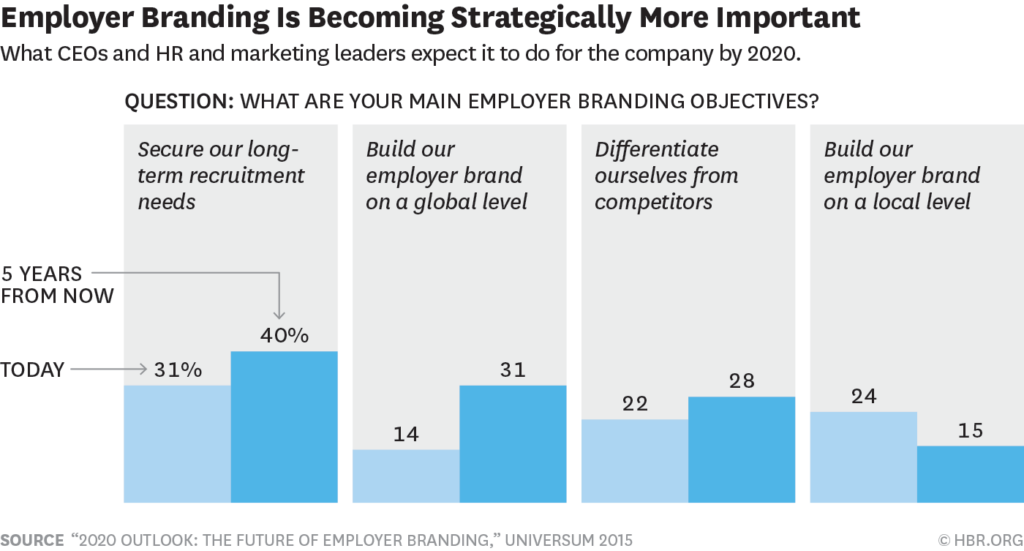 A 2015 Universum study on the future of employer branding surveyed 2000 senior executives, such as CEO's and heads of HR and recruiting, marketing, and employer branding, from 18 different countries. The survey findings demonstrate a trend towards a higher emphasis on employer branding. The data reveals a growing interest on an executive level to pursue differentiation from competitors in a global context through positive employer branding. In the long term, employer branding may be at the forefront of talent acquisition strategy for companies across industries.
The right employer brand strategy has fiscal benefits for companies. The average cost per hire for an employer with a strong employer brand is 2x lower than those with moderate to poor employer brands. Turnover is 28% less for companies with a strong employer brand. The cost of employee turnover, which includes training and loss of productivity, can be anywhere from 90% – 200% of an employee's yearly salary. Additionally, channels are a significant factor in cost saving. Targeting spend in the right areas and investing in the right platforms and software for hiring yields better recruitment results and ultimately saves money.
What is EVP?
EVP, or employer value proposition, refers to the policies, programs, benefits, or rewards that a company offers to candidates. Essentially, it is an incentive for job seekers to want to join an organization. It is critical for an employer to clearly communicate its EVP at every stage of the hiring process. A company's website should clearly state its EVP as well.
3 opportunities to build an employer brand during the recruitment stage
Careers site
A company's website should clearly state its EVP, as this is the initial touchpoint where potential candidates research the employer. The site should be user friendly and easy to navigate. Accordingly, key information, such as a company's mission, values, and types of available jobs, needs to be easy to find. Job descriptions should be detailed and accurate, with the expectations of the position clearly outlined and communicated effectively. Job seekers view many careers sites and job descriptions through their application process, therefore it is crucial to provide comprehensive and well communicated job description. Seeing as 94% of job seekers have used their smartphone to browse job openings, mobile functionality is essential for any careers site.



Application experience
While the average candidate can spend upwards of 3-4 hours submitting a single application, the average employer thinks that this process takes less than an hour. This disconnect results in 60% of job seekers quitting their application halfway through due to the complex, time consuming nature of the employer's application portal. Considering all the time and resources that it takes to get candidates to the application portal, it is not in a company's best interest to lose ⅔ of their applicants during this process.

50% of employers believe that lengthy applications are favourable because they weed out undedicated applicants. However, this is a misconception. The best candidates have many opportunities in the job market and value their time. They are in a position to seek out a better applicant experience with an employer that actively cultivates a positive employer brand. Best-in-class companies comment on candidates' responses 73% of the time compared with 18% for companies with weaker employer brands. Personalization, communication, and feedback capabilities within the hiring process yield better results for talent acquisition. These practices also boost the employer brand by leaving a good impression on all candidates. This even applies to those who do not end up being hired. The best way to attract top talent is through an application process that centres the candidate experience.



Employee and candidate advocacy
In an era of unprecedented transparency, employer reputations are shaped by what is shared about them online. Poor candidate experiences will be broadcasted and detriment an employer's brand. This level of transparency is also an opportunity for employers to build a positive brand through employee advocacy. Employee-generated content, such as "day in the life" videos, reviews on sites such as Glassdoor, and testimonials on a careers page are all viable strategies to build credibility as an employer. Employee driven content is a great way to build a positive brand and to communicate EVP.

A great application experience can turn candidates into advocates. In a landscape where employer ghosting, lengthy application forms, and dissonant communication are common practice, an applicant-centred approach stands out to candidates. Employees are not the only party who shape a company's reputation and employer brand. Candidates play a significant role as well.